Banners
Promotional banners from only £25
The day you bring out a new beer should be a momentous day. After all, think about thepromotional banners hard work and sacrifice that went into producing it—from basic recipe to the finished bottles. You need to introduce your new drink with the kind of fanfare it deserves, to grab the attention of consumers and let them know what they should be drinking. Nothing does this better than a banner, carrying your own branding and design. BreweryPrint banners are large enough so that whatever your promotional or corporate event, it's guaranteed to get a big reception.
Our banners are made from high quality materials
Our banners are made only from high quality vinyl, highly durable and suitable for indoor or outdoor events. Thanks to BreweryPrint's attention to detail and experience, our colours and lettering will stand up to whatever weather it's subjected to, rain or shine. Banners are easy to roll up and reuse whenever you like—you don't have to worry about colours cracking like you might with lesser quality products. The banners come with attachment strings, making light work of putting it up wherever it will have the greatest impact. Our customers often use banners at festivals, where high footfall will mean more interest.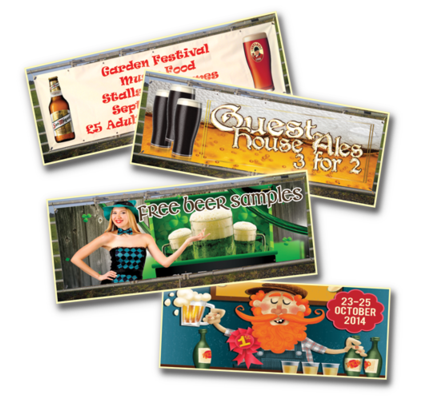 How do I personalise my own promotional banner?
To create your very own banners, simply click the 'Decorate Now' button. This will take you to our design interface. You can start by uploading your design, or by picking one of our ready-made templates, as well as choosing a background colour should you wish. Obviously if you have a design that you have created already, it can be uploaded in full. We recommend using a high resolution file where you can. Should you wish to experiment using our interface, however, you will be able to add text in various fonts. Borders can be added to the banners to give them that professional finish. We can even add photo effects to your designs, everything from sepia and greyscale, to being able to adjust the hue or saturation. It might take a little practice to get the design you want, but BreweryPrint guarantee you'll be pleased with the results.
Minimum quantities Apply for these low short run prices:
Small Pvc Banner

2 metres by half a metre from
Just £30
Medium Pvc Banner

2 metres by 1 metre from
Just £35
Large Pvc Banner

3 metres by 1 metre from
Just £50