Roller Banners
Roller banners from just £49.99
A small brewery can benefit handsomely from the right approach to marketing their products. One of the best ways to build up business is to have consumers simply try their products! It's why brewers have such luck at places like festivals, where people are more willing to try new drinks (especially when there's usually only one beer, the festival's sponsor, on offer). However, simply setting up an anonymous looking stand won't do—and that's where the versatile roller banners from BreweryPrint come in. Very simple to set up and then roll up again at the end of a successful day, roller banners are key when you need promotional materials for a tour.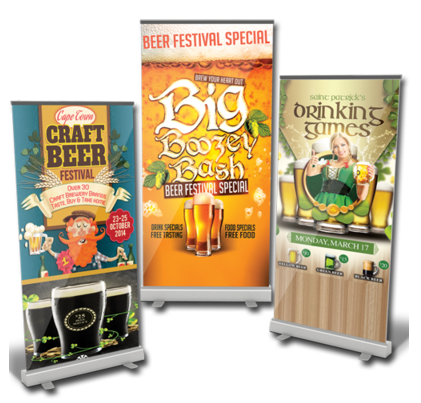 What types of roller banners do we stock?
Like all of our products, roller banners are made from high quality materials and to an exceptional standard. There's no sense in promoting your superior beer with an inferior roller banner. BreweryPrint offers two different types of roller banner, to suit your specific needs. The first is the 'Grasshopper', which comes as a unit that can be unfurled and mounted from the ground up, so you don't need a wall. This type is available in 3 sizes 800mm wide 100mm wide and the larger one of 1200mm wide. The other is slightly different, the 'xtype', which comes without the casing, and is 600mm wide and has no working parts, ideal for small areas or short term display.
How do I design my own roller banner?
To create your very own roller banners, simply click the 'Decorate Now' button. This will take you to our design interface. You can start by uploading your designs, or by picking one of our ready-made templates, as well as choosing a background colour should you wish. We recommend using a high resolution file where you can, if you are uploading your own design. Should you wish to experiment using our interface, however, you will be able to add text in various fonts. Borders can be added to the roller banners to give them that professional finish. We can even add photo effects to your designs, everything from sepia and greyscale, to being able to adjust the hue or saturation. It might take a little practice to get the design you want, but BreweryPrint guarantee you'll be pleased with the results. See our assembly videos for guidance…