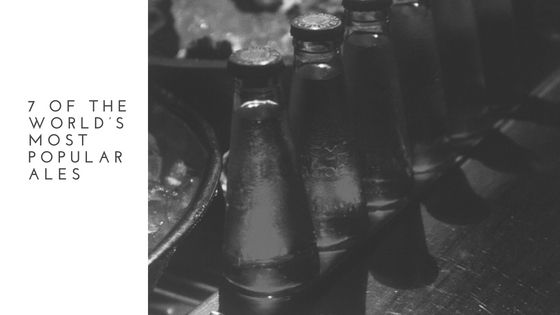 Almost everyone likes a good ale. But which ones do we like the most? These are seven of the most popular ales, according to statistics from a recent poll.
Sharp's Doom Bar
Doom Bar is, understandably, the flagship ale for Sharp's Brewery, based in Cornwall. It's named after a sandbank in north Cornwall which is known for being very dangerous. It is brewed at Rock, then bottled in Burton Upon Trent. It has won many awards within the industry.  
Old Speckled Hen
When Morland Brewery launched this ale in 1979, it was named after a battered old MG which drove around the factory with lots of paint chips missing. It was made to commemorate the 50th anniversary of the MG factory in Abingdon, right next to the brewery. They have since been bought out by Greene King, and it is now made in Bury St Edmunds – and sold in more than 20 different countries around the world.
Hobgoblin
This characterful brand comes from the Wychwood Brewery in Witney, Oxfordshire. It was the first beer in the UK to have an illustrated label on the bottle, rather than just text. David Cameron met Barrack Obama in 2010, when both were still in their respective positions of leadership, and presented him with 12 bottles of Hobgoblin as a gift, since it is brewed in his constituency.
Newcastle Brown Ale
Launched in Newcastle in 1927, Newcastle Brown is sadly now produced in the Netherlands instead after being purchased by Heineken. In the late 1990s, it was the most widely distributed alcohol in the UK, but is now sold more in the US. Trends have changed and other brands have overtaken it in the UK.
Fullers' London Pride
In 1959, this ale was first produced by Fuller's Brewery beside the River Thames. It is still sold worldwide from that same site, in both bottle and cask form. It takes its name from a flower which was seen to bloom on sites that were damaged during the Blitz.
Spitfire
Shepherd Neame is the brewery that launched Spitfire in 1990, from Faversham in Kent. It was created to commemorate the Battle of Britain's 50th anniversary, and is named after the British aircraft that took part in this battle. It has Protected Geographical Indication status.
Old Crafty Hen
The only brewery to appear twice in the list, Greene King made a good decision to launch this ale in 2008. It was made as a combination of Old Speckled Hen with Old 5X, a now defunct ale from Greene King. It is much stronger than Old Speckled Hen with a flavour that can vary from batch to batch, and is considered the super premium version of the two.
It appears that British ales are a real treat for many people around the world, as they are enjoyed in such large measures and exported in huge numbers. Is your favourite ale on this list, or do you like something less well-known?