If you aren't seeing the footfall that you would like at your pub or bar, then you are probably missing a few tricks that would help to increase the number of customers you get in through the door. The key is not just to entice them in, but also to make the experience so good that they want to come back again. Here are some tips to get you started.
Offer more popular ales
This is a really key point, especially with the way that the market is going right now. Customers want craft ales and beers, as well as a few of the bigger brands who are still popular. If you don't carry the drinks that they enjoy, or at least the ones they would like to try, then people won't come back a second time. You can also use the popular ales you serve as a selling point when advertising your venue, so make sure you stay abreast of the latest trends and know what your customer wants.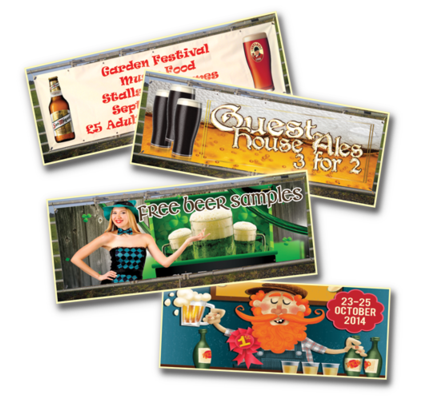 Make the venue more visually appealing
When a pub looks dingy and old-fashioned inside, not many people will want to come in. At this stage, you'll have regulars who keep coming back because they barely notice what it looks like anymore, and hardly anyone else.
Clean carpets with a fresh appearance are a good start, or you could go for a wooden or tiled floor. Hang new posters and artworks on the walls to freshen everything up, and make sure there is no peeling wallpaper or chipped paint. Make sure everything is clean, and install softer, bright but not too bright lights to make it look welcoming. Have bright and cheerful pump clips on display so customers can see what to order when they walk in, and ask your staff to wear a simple uniform – such as black trousers and white shirts – so that they look neat and professional.
Freshen your signs
What does the outside of your venue look like? Your business name should be clearly visible on the outside of the building, and you also need signs or menus which let potential customers know why they should come in. Mention the food and drink you serve, your ambiance, and any other selling points you may have, such as a pool table or darts area. Make sure that your signs are bright and cheerful, or at least that they hit key marketing points for the demographic you are targeting. For example, a venue that serves an alt crowd might use strong black, white, and red colours, gothic fonts, and even satanic symbols to draw attention. The important thing is that they look new, clean, and inviting to the right people.
Run some events
Whether you put on live music, invite the community in for a charity drive, or just partner with other pubs for a pub crawl event, it's important to get some action going. Events like these are more likely to bring people in, and what's more, they might be customers who have never visited before. This makes it your perfect chance to show them what you have to offer and make them want to come back another time.